So you've tackled the laundry list of items needed to prep your home for sale and your house is finally listed and ready for showings…or so you thought.
But what about those last minute showing requests?
It happens often when an agent will call and say they have an interested Buyer who wants to see your home in ten minutes, and your house is a mess. In an ideal world your home should be show-ready at all times, but in reality life still goes on…you still have to manage work and personal time, you still have kids leaving toys and clothes on the floor, you still have tumble weeds of pet fur in the corners, you still have dirty laundry and dishes piled up. It may be tempting to deny the showing and hope they reschedule. Many times the Buyer continues their home search without rescheduling a showing on your home and you've just lost a potential Buyer. Accept the showing and quickly get your home in show-ready condition.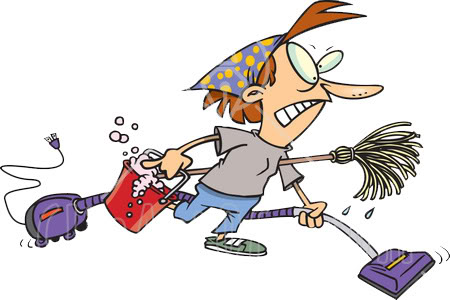 Here are some tips on how to prep for those last minute showings:
* Have a family game plan when it comes to last minute showings. Have a checklist ready for everyone with their specific tasks.
* Get in the habit of making the beds every morning when you wake up (if you don't do this already). It's one less thing (or two or three or more depending on how many beds you have) you need to do to get ready for a last minute showing.
* Have empty laundry baskets or totes on hand. Any extra counter top or dresser top clutter can go right into the baskets and you can actually take them with you. You know….all the mail, school projects, receipts, sunglasses, keys, toys, etc. that pile up throughout the day. Remember, Buyers will be looking in your closets and cabinets so you don't want to just try to hide your clutter.
* Did you just cook and your house smells like food? Open some windows and turn on an exhaust fan while you clean. Heat up a bowl of vanilla extract in the microwave for a few seconds and place it inconspicuously on the counter for the showing.
* Load your dishwasher with any dishes you have piled up in the sink or sitting around the house. Do not turn the dishwasher on. You don't want Buyers to be distracted by the noise.
* Load your washing machine with any dirty clothes piles or clothes strewn about the house. Do not turn the machine on. Once again, you don't want Buyers to be distracted by the noise.
* Quickly wipe down any large pieces of furniture (tv stands, dressers, tables, etc.) to make them shine.
* Vacuum or sweep heavy traffic areas.
* Quickly damp mop kitchen and bathrooms. Swiffers or mini mops work well for this.
* Empty garbage cans.
* Clean litter boxes and scoop any pet waste in the yard.
* As you move from room to room to tidy up, turn on lights and open blinds/shades to create a bright, welcoming atmosphere.
And that's it! You did all that in ten minutes! And yes, I mean that…done in ten minutes. Remember, it's just a quick spot cleaning. Good luck with your showings.
Bottom line: Set up a game plan to prep your home for last minute showings.
To learn more about the home-selling process please contact:
Stacy Kurtz, Realtor
Keller Williams Realty
860-573-2727
stacykurtz@kw.com